Doctoral Examination at the IUL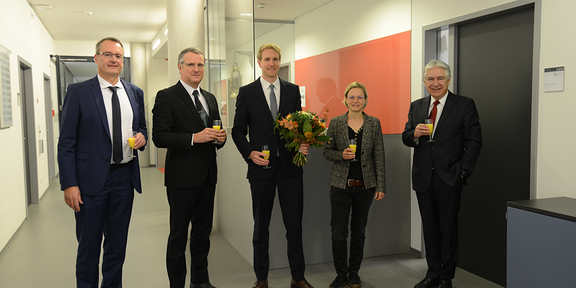 The IUL sincerely congratulates Mr. André Schulze on his successfully passed doctoral examination. On November 22, 2022, numerous listeners attended the PhD lecture of Mr. Schulze on the topic "Hot Extruded Sheets from Aluminium Chips: Production, Characterization and Formability". Prof. H. J. Maier from the Leibnitz University of Hanover arrived as reviewer especially for this examination. In addition to Prof. Maier, the exam was staffed by the supervisor of the dissertation Prof. A. E. Tekkaya, the chairwoman Jun.-Prof. A. Meyer of the LFO (TU Dortmund University) and the examiner Dr. Zabel of the ISF (TU Dortmund University).
In his dissertation thesis, which will soon be published in the Dortmunder Umformtechnik series by Shaker Verlag, Mr. Schulze deals with the production of sheets from aluminium chips. Through the processes of extrusion, flaring and rolling, the chips are directly recycled and the mechanical properties and formability of the sheets are subsequently characterized. After the test, Mr. Schulze invited the commission, family and friends as well as the whole IUL team to a drink in the test field.